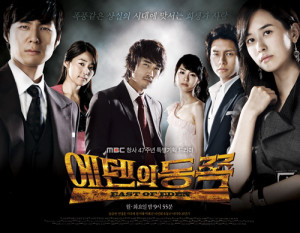 Song: Red Bean
Singer: Lee Hea Ri
OST: East Of Eden
Download: VCLIP
Lyrics: (Romanized)
gude gogi innayo dorasoji marayo
nega han gorumshik do gakkai gago issoyo
do isang amugotdo nege juji marayo
ijen nega monjo gude ege duril go heyo
dashinun dashinun guron sarang haji marayo
un sesangul da jundedo bakkuji an nul mau mun
jugomshik jugomshik modungoshi icho jindedo
burkge tao run sarang
hanaman ne gasume namul tende
imi jinagan ildul giokhaji marayo
honja olmana him duronnayo jongmal mianheyo
ajik oji anhun il senggakhaji marayo
jigum i shigane ore ore momullo jwoyo
dashinun dashinun guron sarang haji marayo
un sesangul da jundedo bakkuji an nul mau mun
jugomshik jugomshik modungoshi icho jindedo
burkge tao run sarang
hanaman ne gasume namul tende
dashinun dashinun guron sarang haji marayo
un sesangul da jundedo bakkuji an nul mau mun
jugomshik jugomshik modungoshi icho jindedo
burkge tao run sarang
hanaman ne gasume namul tende
Lyrics: (Hangul)
그대 거기 있나요 돌아서지 말아요
내가 한걸음씩 더 가까이 가고 있어요
더 이상 아무것도 내게 주지 말아요
이젠 내가 먼저 그대에게 드릴꺼에요
다시는 다시는 그런 사랑하지 말아요
온 세상을 다 준데도 바꾸지 않을 마음은
조금씩 조금씩 모든 것이 잊혀진데도
붉게 타오른 사랑
하나만 내 가슴에 남을텐데
이미 지나간 일들 기억하지 말아요
혼자 얼마나 힘들었나요 정말 미안해요
아직 오지 않은 일 생각하지 말아요
지금 이 시간에 오래오래 머물러줘요
다시는 다시는 그런 사랑하지 말아요
온 세상을 다 준데도 바꾸지 않을 마음은
조금씩 조금씩 모든 것이 잊혀진데도
붉게 타오른 사랑
하나만 내 가슴에 남을텐데
다시는 다시는 그런 사랑하지 말아요
온 세상을 다 준데도 바꾸지 않을 마음은
조금씩 조금씩 모든 것이 잊혀진데도
붉게 타오른 사랑
하나만 내 가슴에 남을텐데
cre: YTB
EngTrans
Are you there?
Don't turn back
I'm inching toward you
One step at a time
Don't give anything to me anymore
Now i'll give to you first
(*)Don't again don't again
Love like that anymore
Even when the whole world is being offered
Nothing can be exchanged with my heart
Little by little . little by little
Even though everything will be forgotten
The love that burnt wildly
Will be the only thing that left in my heart
Don't remember things
That already passed by
How much were you suffering alone?
I'm really sorry
Don't think about the things
Which haven't arrived yet
Just stay longer and longer
At this time, can you?
Việt trans:
Anh có nơi đó chăng?
Xin đừng quay trở về
Em đang tiến lại gần anh
Từng nhịp thời gian
Đừng trao cho em thêm điều gì nữa
Lúc này đây, em sẽ trao anh lần đầu tiên
(*)Xin đừng, xin đừng
Yêu như vậy nữa
Dù cho cả thế gian này đề nghị
Chẳng có gì thay đổi được trái tim em
Dần dần từng chút một
Dù cho mọi thứ chìm vào lẵng quên
Tình yêu này vẫn bùng cháy mãnh liệt
Và sẽ là thứ duy nhất còn lại trong trái tim em
Xin đừng nhớ điều gì
Những gì đã qua
Biết bao điều anh đã phải chịu đựng một mình?
Em thực lòng xin lỗi
Xin đừng nghĩ tới
Những gì chưa từng xảy ra
Hãy ở lại lâu hơn nữa
Lúc này ,được không anh?

cre: springflower @ loidich.com
© 2010, nicky. All rights reserved.