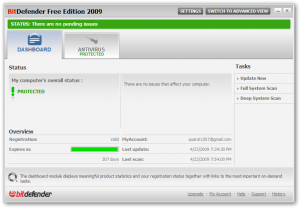 BitDefender Free Edition 2009

One of the world's most effective antivirus engines for free!
BitDefender Free Edition is your chance to use one of the world's most effective antivirus engines for free.
BitDefender Free Edition uses the same ICSA Labs certified scanning engines found in other BitDefender products, allowing you to enjoy basic virus protection for no cost at all.
BitDefender Free Edition is an on-demand virus scanner, which is best used in a system recovery or forensics role. If you are on an "always-on" Internet connection, we strongly advise you to consider using a more complex antivirus solution.
NOTE: One year free license.
KEY FEATURES:
Antivirus
The mission of the Antivirus module is to ensure detection and removal of all viruses in the wild. BitDefender Antivirus uses robust scan engines, certified by ICSA Labs, Virus Bulletin, Checkmark, CheckVir and T?V.
IMPROVED! Proactive detection
B-HAVE (Behavioral Heuristic Analyzer in Virtual Environments) emulates a virtual computer-inside-a-computer where pieces of software are run in order to check for potential malware behavior. This BitDefender proprietary technology represents a new security layer that keeps the operating system safe from unknown viruses by detecting malicious pieces of code for which signatures have not been released yet.
Spyware scanning and cleaning
BitDefender can scan your system, or part of it, for known spyware threats. The scan uses a constantly updated spyware signature database.
NEW! Privacy protection
The privacy guard monitors HTTP (web) and SMTP (mail) traffic flowing out of your computer for what might be personal information ? like credit card numbers, SSN's and other user-defined strings, like, for example, bits of passwords.
IMPROVED! Deployment and use
A setup wizard starts immediately after installation, helping users select the most appropriate update settings, a scanning schedule and providing a quick path to registering and activating the product.
IMPROVED! User Experience
BitDefender redesigned the user experience, placing emphasis on ease of use and clutter avoidance. As a result, many BitDefender v10 modules require significantly less user interaction, through judicious use of automation and machine learning.
Hourly Updates
Your copy of BitDefender will be updated 24 times a day over the Internet, directly or through a Proxy Server. The product is able to repair itself if necessary, by downloading the damaged or missing files from BitDefender servers. BitDefender license owners benefit from free virus definition updates and free product upgrades.
NEW! Rootkit Detection and Removal
A new BitDefender module looks for rootkits (malicious programs designed to control victim computers, while staying hidden) and removes them on detection.
REQUIREMENTS:
Pentium MMX 200 Mhz or higher processor
Minimum 64MB of RAM Memory (128MB recommended)
Minimum 40MB available hard disk space
Link:
DOWNLOAD – TẢI VỀ BẢN 32BIT [59.13MB]
DOWNLOAD – TẢI VỀ BẢN 64BIT [70.44MB]
© 2009, nicky. All rights reserved. Nhấn like hoặc để lại comment là cách để cám ơn cho bài viết hay và giúp cho nhiều người biết đến trang này hơn. Bạn chỉ mất một giây để nhấn like nhưng giá trị mà nó đem lại lớn hơn rất nhiều. Thanks.